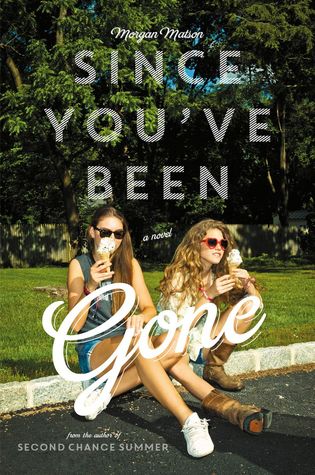 Publisher: Simon & Schuster
Release Date: May 6, 2014
Pages: 449
Format: Hardcover
Source: Bought
Series: N/A
Genre(s): Contemporary
Synopsis from Goodreads:
The Pre-Sloane Emily didn't go to parties, she barely talked to guys, she didn't do anything crazy. Enter Sloane, social tornado and the best kind of best friend—the one who yanks you out of your shell.But right before what should have been an epic summer, Sloane just… disappears. No note. No calls. No texts. No Sloane. There's just a random to-do list. On it, thirteen Sloane-selected-definitely-bizarre-tasks that Emily would never try… unless they could lead back to her best friend. Apple Picking at Night? Ok, easy enough.Dance until Dawn? Sure. Why not? Kiss a Stranger? Wait… what?

Getting through Sloane's list would mean a lot of firsts. But Emily has this whole unexpected summer ahead of her, and the help of Frank Porter (totally unexpected) to check things off. Who knows what she'll find?

Go Skinny Dipping? Um…
There was not a thing that I didn't love about Since You've Been Gone! I'd heard wonderful things about it around the time of its release from fellow bloggers and decided that I needed to read this book and I needed to read it NOW. I was originally planning to save this one for a vacation or after my summer officially started, but boy am I happy I didn't wait! Since You've Been Gone would have to be my favorite contemporary set in the summer (I can't say favorite contemporary of the year because I loved To All the Boys I've Loved Before equally).
I had so much fun reading this book! Not only did I totally relate to Emily (I mean, not only do we share the same name, but I'm a lot like her – I don't do things that are out of my comfort zone, ever) but I loved getting to go on her adventures in order to complete Sloane's crazy list. That brings me to another thing I loved about this book: LISTS. Guys, I love lists. Sometimes I'll even write things on lists that I've already completed just to cross them off! Since You've Been Gone was full of them. Sloane's lists were my favorite. I loved the friendship Sloane and Emily had in that they could communicate with each other through lists and totally understand what the other meant. That's a solid friendship right there. Then there were the playlists! As I've said before on the blog I'm not a music person, but I really loved the addition of the playlists into the book. Not only are they awesome musical recommendations that I plan on listening to, but they really add to the development of Emily and Frank's relationship.
Since You've Been Gone is a really relationship-driven story. Not really romantic relationships but friendships. I LOVED that. Friendship books are too few in the YA genre. There was the perfect balance of friendship and romance. Seeing Emily make new friends in the absence of the one person she really considered a friend was perfect.
The ending of the book was just as good as the rest of it! I was satisfied and it brought a smile to my face. Overall, Since You've Been Gone was a fantastic book about independence, relationships, and the fact that friends can come from unexpected places.