Lately I have been thinking a lot lately about what I want to do after high school and college. I know that's way off in the future, but I'm getting really excited about it! I've known for a long time that I want to go into the graphic design field. More recently I've been looking into jobs that combine both my love of books and design into one. I've pulled up many publishers' job openings pages and scrolled to find the art and design occupations and I guess I've finally decided on the exact job I want: I want to design book covers.
Some people may think that in a world where there's the possibility to be a scientist or a doctor, being a designer isn't the best job choice. I get the impression my counselor at school feels this way. She tried to discourage me from the arts and even went as far as saying that I shouldn't want to be a "starving artist." Of course I don't want to be a starving artist, but art is a passion of mine, just as books are. I strongly believe that going to work as a designer every day would make my days enjoyable instead of some that wish they chose a different path.
Clearly I love art, but the thing that I realized told myself that graphic arts was the way to go was when I discovered that I have an obsession with FONTS. Typography, typeface, whatever you want to call it. I love it. And I love the way an artist can blend typography together with a photograph, or other art to create a book cover.
Even more importantly, I love the way in which a book cover has the ability to influence a person's decision about whether or not they pick a book up to see what it's all about. I want to be able to catch a person's eye with a cover I've designed and be able to know that I helped someone experience a new story. That feeling would be worth the world to me. Because let's face it, we all judge books by their covers.
What really got me thinking about this was that I recently bought Since You've Been Gone by Morgan Matson. That cover has to be one of my favorite covers of all time. It's simple, yet gets the vibe of the story across perfectly. I'm pretty much obsessed with it. So I did my research. I found out the jacket designer was Lucy Ruth Cummins and she designed more of my all time favorite covers, too!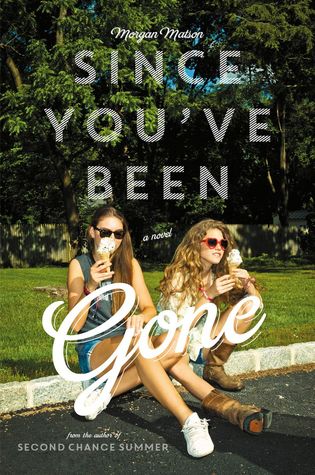 I'm not really sure the point of this post other than to talk to you guys about the future I'm hoping for and my love of covers. But, if any of you are cover designers or work in the design department of publishing I would love to hear more about the job itself. The good and the bad, what you like and dislike, etc. I want to know all about it! Also tips on courses I may want to take in the future to better my chances of getting a position…anything and everything I want to hear it!
xo,
Emily